---
The latest trend in SEO to Improve Your Results in 2022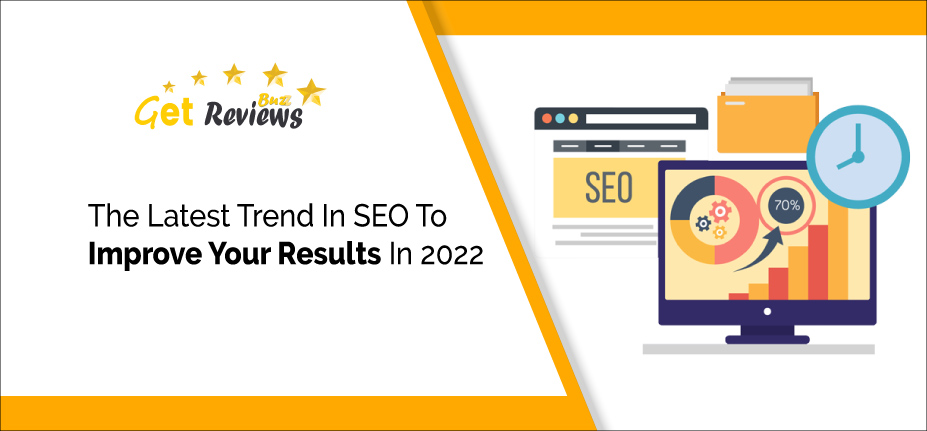 Imagine this is 1990 and if you want to make sure that your website ranks, you stuff your meta tags and web content with repetitive keywords. Fundamentally, this was the norm in the early 90s when it came to SEO. We can say that during the early stages of search engine optimization, keyword stuffing and focusing on on-page content was the only practice available for marketers.
Now, come back to this year, 2022! Look around, SEO has evolved, so have the factors influencing it. There's much more to SEO other than just stuffing on-page content or meta tags with keywords. And if you are someone who is still stuck with these old practices, well, here's a truth bomb- You have already failed miserably to rank your website and you are still stuck in the past, while your customers are switching to your competitors. In short, you own a failed business!
Over time, Google's algorithm has become smarter, so you should align your current practices with the latest trends in SEO in order to write a new story of success for your business.
Here's what all would help you rank above millions of websites in 2022.
Join hands with Artificial Intelligence
You've definitely heard of RankBrain if you're into digital marketing. The algorithm enables Google to streamline its search results based on a user's search criteria by using machine learning and artificial intelligence. In terms of RankBrain's workings, Google is quite tight-lipped, but SEO experts have speculated that it will be largely driven by the user's experience on a Web page. For a website to rank well in SERPs, the amount of time spent on it and the click-through rate (CTR) will likely be defining factors.
It all comes down to the quality of content you post online. It is most likely that RankBrain will pay attention to anything that keeps the reader interested. One of the biggest SEO trends for 2022 will be artificial intelligence. If you are setting digital marketing goals, keep that in mind. Since AI is inevitable, it has become imperative for marketers to adopt an AI-based SEO strategy.
A number of artificial intelligence tools, such as AI-powered chatbots that can complete multiple tasks and analyze large amounts of data, have changed the landscape of SEO, and are making their way into mainstream marketing.
By utilizing AI, you can understand and predict customer behaviour and get the best SEO results, so there is no harm in leveraging it.
Updated existing content
It is true that content is king, but you must ensure that the content is relevant and up-to-date as the internet can change at any moment. You should keep the posted content updated and it goes for your web content as well. In order for your content to stand the test of time, you must develop the best content strategy.
Therefore, website owners should review their current content to determine whether they need to add more details, longer copy, or more focused keywords. Having done so, you will be able to rank higher and really outshine the competition for organic traffic this year.
Here's something more about the 'king', we mean the 'Content': In addition to refreshing your existing content, let's discuss adding more evergreen content.In both cases, content still reigns as the king of SEO trends, regardless of the year.Therefore, you cannot rely on the existing content for traffic this year.
Plan on adding more evergreen content to your website's framework.In the end, you'll find that the more keyword-focused pages you have, the easier it will be for someone to find the information you provide.Establish yourself as an authority in your field by providing more information about your brand or company.
Industry experts are considered more trustworthy, making it easier to collect first-party data, such as quotes, leads, and email subscribers.
The only thing you should do out of this list of SEO trends for 2022 is to ensure your website has more evergreen content. If you are still confused about doing this, leverage the potential of content marketing services.
Google reviews
Reviews on the internet are becoming increasingly important in today's world of business. Although Google algorithms are notoriously secretive, knowing how exactly to use them to attain stellar rankings remains somewhat ambiguous.
Many studies have been conducted over the years on how to incorporate customer reviews into SEO strategies. Various details will vary from company to company (and industry to industry), but it has been concluded that Google reviews are of the major factors that can influence SEO.
The search engines like to see that people are choosing your business and leaving their opinions. Having a good number of 5 star Google reviews can boost your page rank significantly.
Voice Search
In recent years, voice search has become increasingly popular. According to recent statistics, 58% of consumers use voice search to locate local businesses.
As of now, Alexa, Siri, and Google Assistant are integral parts of people's lives. In addition to smart speakers, other devices such as televisions and medical devices are beginning to adopt voice activation, so it will only be a matter of time before voice search becomes the main form of search.
As a result, the latest trend in SEO would be the increasing need for marketers to master "conversation marketing," the process of converting written content into natural language. In addition to giving brands a chance to connect with their customers more personally, this change in the vocabulary will help them gain a better understanding of their customers.
Make your SEO strategy even better in 2022
Marketers should adapt and evolve along with Google's changes to improve the quality of search results and adopt the latest trends in SEO. Get Reviews Buzz is here to help you with any of your digital marketing needs, including building SEO strategies.