---
Why is Google My Business Optimization Important for your business?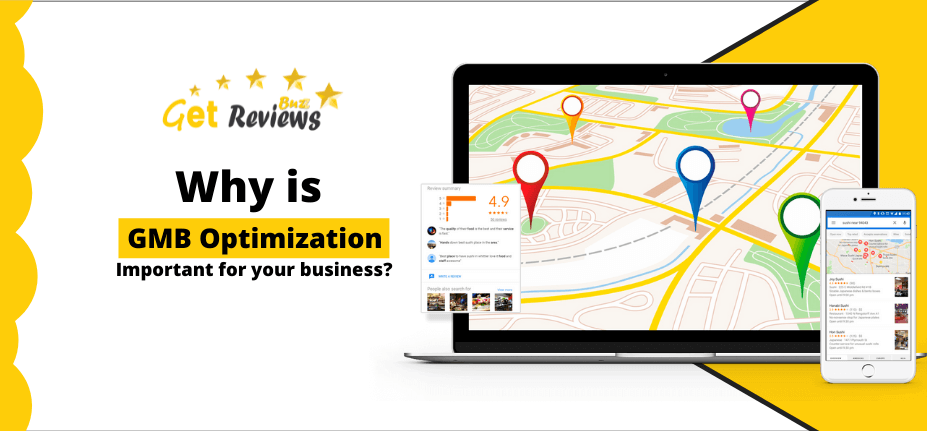 While making a search on Google, you might have noticed a company's profile pop up on the right-hand side of the screen with all the necessary information. Ever wondered why and how that happens? Well, that's because of Google My Business optimization services.
GMB optimization is an effective way to pop your website right in front of the users when they search for the services or products you offer. The higher your GMB listing, the more exposure your website will receive, and with that comes more customers!
Now sure what exactly is GMB service and how your business can benefit from it? In this guide, we will try to clear all your doubts regarding why your business requires Google My Business optimization and how it can be used in the best way.
What is Google My Business?
Google My Business is a tool of local SEO that helps local businesses gain better visibility on Google searches. It helps your potential customers find you online who would otherwise not know about you.
Your business information like phone number, website, address, Google Local Guide reviews and ratings, and more will be displayed to make it easier for your potential customers to reach you.
The majority of people rely on Google to find a business which means the more visibility you have on Google — the better chances you have to attract customers. And the best way to do it is through Google My Business optimization services.
What is Google My Business Optimization?
Google My Business Optimization is a service where an expert analyses your existing GMB listing and makes tweaks to ensure your website receives better exposure and visibility in front of your target audience when they search for the products or services you're providing.
Benefits of Optimized Google My Business Listing
Whether through map queries or search results, more than 5 billion searches are made on Google every single day. This means a large number of people are looking for your business. Thus, improving how you appear on Google can have a huge impact on your business. Some of the benefits of Google My Business optimization services include-
It Improves visibility on Google search and Maps
One of the biggest benefits of the GMB optimization service is that it will boost your Google rankings and improve the chances of your website showing on Google Local 3 Pack and Google Maps. When you make a local-based on search, you might have seen Google Map with three local results highlighted.
Having your website appear on Google Local 3 pack and Google Maps means that more customers will tap on your website and your business will be more prominent in results.
It allows people to leave reviews of your business
One should never underestimate the power of Google Local Guide reviews especially when it can impact your website's search rankings. According to a study, Google reviews make up 10% of how a search engine ranks results.
If you wish to make your website visible on search results, you need to focus on Google My Business optimization. GMB can make it easier for your customers to leave a review about your business. And with positive Google local guide reviews comes along increased sales.
It ensures online consistency
With time, your business grows and changes and you want to keep your customers informed about the recent changes. Keep your customers in the loop with Google My Business Optimization services. It lets you change the phone number, location, website, and social media. If you ever change the address or phone number of your business, GMB will make it easier for people to find you.
It helps you improve your SEO
GMB optimization not only increases your Google Local Guide reviews, but it can also be one of your most powerful SEO tools. When you have an optimized GMB listing, it will help you climb up the ladder of rankings. Google always prefers websites that provide valuable information and insights about their business. The more Google knows about your business, the better ranking your website will get on search result pages.
It helps you get ahead of your competitors
Google My Business optimization gives you a perfect opportunity to stand out against your competitors. It displays a brief description and information about your business which makes it easier for your potential customers to find what they are looking for and trust your business.
It creates a great first impression
Having an optimized Google My Business listing will show your customers that you're willing to keep working to make your business better and updated. Google My Business Optimization services let you set expectations of what your customers expect from you.
The more information you provide the better impression your website will have regarding your business. Try to add more photos and videos to make it easier for your customers to know about your products and services.
GMB Optimization helps you gain customer's insight
GMB optimization service helps you gain customers' insights that you can use to improve your business. GMB listing collects some data regarding how customers find you and what they do after that. Some of the information collected on GMB listing is-
Total number of views your GMB listing had
How potential customers find out about your listings
What they do after seeing your listings
What kind of interactions do customers have with your GMB listing
All this information will tell your customer's take on your business. This can be used to make necessary changes to your business to improve customers' experience.
Get started With Google My Business Optimization Today With Us
GMB provides a perfect opportunity even to the small businesses to appear on the first page of Google searches. Google My Business is one such tool of local SEO that lets you acquire your targeted audience that would otherwise go to larger and well-established businesses.
Optimizing your Google My Business listing isn't difficult but it requires constant maintenance. If you're short on time, you could hire an expert like getreviews.buzz to help you with your Google My Business optimization services.